Congresswoman Loretta Sanchez Visits West Coast University
Congresswoman Loretta Sanchez Visits West Coast University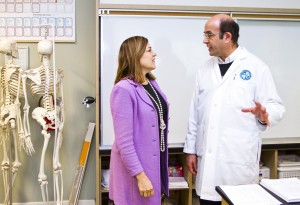 West Coast University's Orange County campus received a special visit from Congresswoman Loretta Sanchez on Monday, February 11, 2013. WCU's campus in Anaheim is within California's 46th District, which Congresswoman Sanchez represents.
Congresswoman Sanchez came to tour West Coast University's Dental Hygiene Clinic, which offers free dental hygiene services to the community. To date, the Clinic has seen over 3,000 patients and has 3 annual community health fairs, free to the public. The students who provide these services are supervised by registered dental hygienists and dentists. It is West Coast University's belief that all members of the community should have access to this vital level of care, regardless of income. This visit marked another step in West Coast University's community outreach efforts aimed at educating legislators and other government officials about the University's focus on combining high quality education and compassionate community service programs.
On the way to the Dental Hygiene Clinic, Congresswoman Sanchez passed by the General Education labs and had the opportunity to speak to students about their experience at WCU. The congresswoman shook hands with the students and encouraged them to follow their passion in health care.
Debi Gerger, Dean of Dental Hygiene program, had the privilege of giving Congresswoman Sanchez a tour of the Dental Hygiene Clinic, which spans across the 4th floor of the campus, and truly impressed the congresswoman. The Clinic was of particular interest to the congresswoman, who used to be a Dental Assistant. Inside the Clinic, she saw students taking x-rays, and inside the Skills Lab, students were practicing their skills on mannequins. "Being able to share our student learning opportunities both on-campus and off-campus, as well as the many services of our free clinic with one of Orange County's political leaders was an honor," said Dean Gerger.
Congresswoman Sanchez seemed very interested in the WCU Clinic, asking how her constituents are made aware of the services the Clinic offers. Looking around the pristine 30-chair, paperless Clinic, Congresswoman Sanchez said in awe, "I'm really amazed at what I'm seeing."
For more information about Congresswoman Loretta Sanchez, please click here. For more information on West Coast University's no-cost Dental Hygiene Clinic, click here.