Giving and Community Service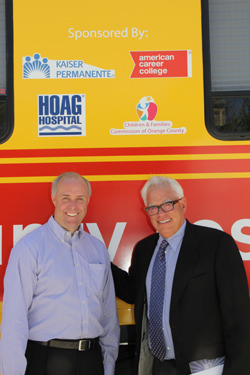 Directing the philanthropic contributions of West Coast University and American Career College, Mr. Pyle has a long history of supporting numerous charitable and community organizations. His passions include increasing access to quality health care and creating educational opportunities, particularly for the underserved and at-risk children and families.
American Career College Giving
American Career College Giving
Riverside County Regional Medical Center
provides health care to residents of Riverside County 24 hours a day, seven days a week. The Foundation helps provide the Medical Center with specialized equipment and programs to best serve its patients, augmenting the Medical Center's existing funding sources and thereby strengthening the health care services provided to the ever-increasing number of residents of Riverside County.
American Career College sponsors the Victor Valley Community Hospital Children's Health Fair
provides free screenings, treatments and vaccines to children, providing a free and fun way to educate and promote healthy families.
American Career College provided the equipment for the Orange County Rescue Mission's
medical mobile unit that travels throughout Orange County to provide health care services to underserved children.
California Institute for Nursing and Health Care (CINHC)
develops solutions to the nurse shortage by partnering with nurse leaders, educators, providers, payers, policy leaders, and consumers. CINHC funding is entirely through contributions and grants, and works collaboratively with organizations and individuals concerned about ensuring an adequate supply of nurses and developing leaders in the field for the future.
American Career College contributes financially to Shriners Hospital for Children – Los Angeles,
helping them to provide the most advanced medical care for thousands of kids with orthopedic conditions, burns, spinal cord injuries and cleft lip and palate in a family-centered environment, regardless of the patient's ability to pay.
Through support of the Hoag Hospital Foundation,
American Career College supports multiple branches of Hoag Memorial Hospital, from the Neuroscience Institute, to the Intensive Care Unit, Critical Care Unit, Cardiology, and Gastroenterology. Our giving supports innovative program development and clinical research to improve health care in the community.
KidWorks is targeted to low-income, at-risk youth in Santa Ana,
providing afterschool programs, tutoring, mentoring, health education and parenting classes, with the ultimate goal of helping kids graduate from high school.
Given the serious problems facing youth, such as high school dropout, illiteracy, crime, and unemployment, Archdiocesan Youth Employment Services
mission is to provide young people with job training, education, and counseling so that they become self-sufficient and productive.
The Newport Harbor Education Foundation
promotes academic excellence and enhances educational opportunities for all 2,400 students at Newport Harbor High School. American Career College provided funding for a full time counselor to help with college and career planning for high school students.