Student-Centric Model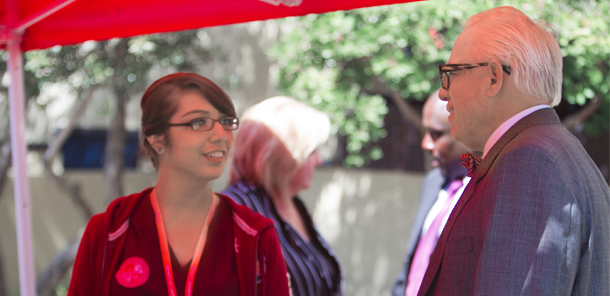 A Student Centric Model
David Pyle's philosophy is focused on serving students from the moment they enroll.
West Coast University and American Career College provide unparalleled flexibility to ensure they operate in a way that adds value to the lives of students and contributes to the greater community good.
Graduating from ACC or WCU is a significant accomplishment, to be sure. But the relationship doesn't end with a framed diploma. Pyle places significant emphasis on placement and graduate services. Scores of his graduates save lives and serve patients at hospitals, in health care facilities and in businesses across the nation. Their success is his success – and his focus.
First Impressions Count
You don't get a second chance to make a great first impression.
That's the motto that Mr. Pyle imprints on every aspect of his life – whether personal or business. This dedication is evident across the campuses at American Career College and West Coast University.
Mr. Pyle's reputation for interacting with students is legendary. He's had conversations with tens of thousands of his students over the years, grilling them on everything from their professors to their opinions about the classes. A source of pride is the overwhelming positive feedback he receives. "The world is evolving – and so must we," he says. "I challenge our staff and faculty to stay as connected as possible to ensure we're meeting the needs of our students."
That personal Pyle touch is evident on all his campuses, where greeters welcome students, faculty also serve as mentors and student appreciation is engrained in the culture. The goal is not only to prepare students for their chosen careers, but to help them create memories and friendships that will last a lifetime.
Environments for Learning
Campuses designed to inspire. Advanced technology students need for optimal learning.
Mr. Pyle takes particular pride in the campuses he's built, which boast modern classrooms and labs equipped with the latest tools, instruments and computers similar to what students will use on the job.
But the campuses are much more than a collection of classrooms and lecture halls for students. Each campus has been designed to encourage students to stay, collaborate and enjoy. They are communities unto themselves. Throughout each campus, Pyle has taken great care to create "people spaces" for students, faculty and staff members. He has worked to bring inside some of the ambience of the outdoors to create an atmosphere of warmth and belonging that often is lacking in urban settings. Students are encouraged to linger on campus and study together. It's all part of the indelible "college experience."
Among his recent accomplishments: the building of nursing simulation centers at every West Coast University that are transporting learning to a whole new level. Mr. Pyle believes that health care training must evolve along with the industry, and therefore has embraced simulation training as a critical tool to give students the practical experience they need. The Nursing Simulation Center uses high fidelity mannequins that mimic human responses and current health care technology in realistic patient care settings.
Mr. Pyle also takes great pride in the no-cost Dental Hygiene Clinic at the Orange County West Coast University campus. The clinic works to improve the dental health of those who may not have the means to visit a private practice dental facility for care. Mr. Pyle's vision is that one day soon, the clinic will expand its hours of care to include even greater use of the clinic to meet the needs of the underserved community.
Expanding Students' Horizons
Global studies take students out of their comfort zone, enhancing their perspective and broadening their experience.
Becoming a nurse is hard work. It's easy to get caught up in the day-to-day pressures of classes and clinics. Pyle understands the importance of broadening students' perspectives beyond the four walls of the classroom. Through West Coast University, he supports a scholarship-based, study-abroad experience that takes the University's top nursing students and immerses them in a summer program at the University of Oxford. There, students encounter modern medicine in a global setting, learning about emerging issues in health care and opportunities for hands-on experience in medical clinics of developing nations.
Compassionate Health Care
When asked what he looks for in staff and faculty, he begins with the word "compassion."
This is probably not what you'd expect from a high-energy entrepreneur with a track record of taking two bankrupt institutions and turning them into two quality health care education institutions in California. But Mr. Pyle believes this is the mark of a strong leader. "Whether executive administrators, faculty, or associates, I look for individuals with the compassion and emotional intelligence to understand the bigger picture—we are here to help students succeed in school and prepare them for a rewarding career in health care," says Mr. Pyle.
"We outplace our competition – that's what makes our educational model sustainable. We focus on student outcomes, with ultimate goals of more, better, and higher-paying jobs for our students."
Celebrate Good Times
It's not how you start that people will remember, but how you finish, Mr. Pyle says. It's about where you're going, not where you've been.
"College graduation is an enormous milestone. It's a day our students will cherish forever. They put in the hard work, and have taken a gigantic leap toward making their dreams come true. Graduation is my favorite event of the year. We celebrate as a community – and inspire each other to keep pushing."