Journey to Education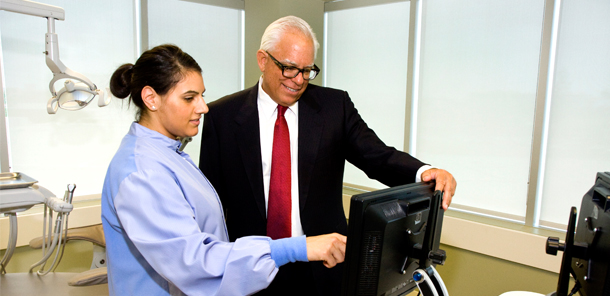 It Started With $1
David Pyle bought the American College of Optics out of bankruptcy for $1.
He was confident the school his father and other investors had founded had enormous potential for success. Eye care was an underserved niche. Even though he had just graduated from USC's School of Business himself, Pyle's vision for creating the highest quality learning environment possible was already taking shape.
"It was the best investment I ever made," he says.
Measuring Success

By January, 1981, he was hard at work separating the school from the competition.
He believed then, and still does today, that his schools should offer better facilities, higher quality instructors and — most important – the best possible results.  Pyle measures success by graduation rates, job placements and passing scores on state board exams.  With these end-goals clearly defined, he reshaped the college and set the course for the future.  His strategy and goals endure today.
Growing into Health Care
In 1992, Mr. Pyle expanded American College of Optics to include other health care education programs such as Vocational Nursing, Surgical Technology, and Dental Assisting, to name a few.
He renamed it American Career College to reflect this broader scope.
The college had grown its inaugural campus to more than 1,500 students. At the time, the biggest career college in Orange County had fewer than 350 students, but Pyle saw the region's potential. Despite naysayers, he opened a campus in Anaheim in late 2000, seeding it with quality educators and administrators and maintaining his focus on student outcomes.
'A Beacon of Hope'
American Career College offers students an entry-level medical career opportunity with outstanding faculty and campuses.
But to Pyle, there's a lot more to the magic of ACC than stats on paper.
ACC offers small classes and student-teacher ratios geared toward helping students achieve academic success – many for the first time. ACC is an introduction to a career, to professional success. Two-thirds of ACC students are single moms.
"I visualize American Career College as a beacon of hope, a broadcast into the community that says, 'If you will meet us halfway – show up to class and do your best – we'll give our best to you to help you succeed.'  Pyle says.
His motto: "Once you're in, we've accepted you into our family and it's our job to help you succeed. We're going to teach, to praise, to push, to cajole . . .  whatever it takes to motivate students to progress and matriculate at ACC. At the end of the day, it's all about helping students succeed."
Expanding Heath Care Education
Mr. Pyle's thirst for offering new opportunities to students took a major step forward in 1997 when he acquired West Coast University.
From its humble beginnings, Pyle has grown West Coast University to the exceptional institution it is today with three Southern California campuses and one in Dallas, Texas. Under Mr. Pyle's leadership, West Coast University became the first school of its kind to offer a Bachelor of Science Degree in Registered Nursing (BSN). The BSN program was awarded the prestigious programmatic accreditation from the Commission on Collegiate Nursing Education (CCNE). In 2008, the University launched its dental hygiene program and today, the Orange County campus offers one of only four Bachelor of Science Degrees in Dental Hygiene in all of California which is accredited by the Commission on Dental Accreditation (CODA).
Another "first" for the University: in December 2011 after an extensive two-year process, West Coast University achieved initial accreditation from the Western Association of Schools and Colleges (WASC). West Coast University is the first privately held health care educator to move from national to regional accreditation.
Investing in Students
He understands student aspirations, making West Coast University a conduit for success.
While West Coast students tend to have more family and social support, their personal investment is the same: they work to achieve their dreams and aspirations. West Coast University is a conduit for those aspirations. And the value-add is personal attention.
Critical Thinking. Patience. Technical Skills. Emotional intelligence. Those are among the attributes taught at WCU, where graduates have earned a reputation as the most prepared and professional wherever they serve. Part of the reason is WCU's investment in simulation. "We understand there's not room for a mistake at a live clinical site. So we take real-world scenarios into the simulation center where our students practice over and over again, so that they are ready to transition smoothly into the job site and their chosen career," Pyle says.
Pyle's vision for West Coast University includes the region's best graduation, job placement and state exam passing rates. It also focuses on catering to the needs of students. It offers year-round classes, enabling students to graduate sooner – sometimes hitting the job market two to three years earlier than their counterparts in the UC or state college system. That has a significant, positive economic impact for students. As evidence of the quality education students receive, each graduate from WCU's dental hygiene program national board exam and 94-percent passed the state licensing exam.