Giving and Community Service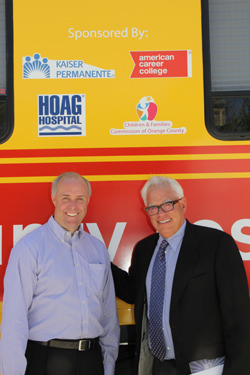 Directing the philanthropic contributions of West Coast University and American Career College, Mr. Pyle has a long history of supporting numerous charitable and community organizations. His passions include increasing access to quality health care and creating educational opportunities, particularly for the underserved and at-risk children and families.
Philanthropy Home
Mr. Pyle's goal in giving is to make a measurable difference in people's lives.
He seeks to inspire and strengthen the organizations he supports and the individuals they serve. Drawing on his personal commitment to education and health care, Mr. Pyle's targets his giving to programs that increase access to quality health care and create educational opportunities for the underserved.
Take for example KidWorks – a program Mr. Pyle has supported for many years. This program for low-income, at-risk youth provides afterschool programs, tutoring, mentoring, health education and parenting classes, with the ultimate goal of helping kids graduate from high school. Another example is the mobile medical clinic recently obtained by the Orange County Rescue Mission. Pyle's contribution provided the medical equipment to outfit the pediatric exam rooms providing a wide range of medical services to families in need.
Programs for autistic children. Health fairs for children and families. Children's Hospital funding. Ronald McDonald House for families with seriously ill children. Youth literacy and job training. The list of programs Pyle supports goes on and on. The good news is that David Pyle's heart for giving is as big as the list is long.
In addition to directing the philanthropic programs for West Coast University and American Career College, Mr. Pyle gives his time to mentor high school juniors through job-shadowing, one-on-one meetings and individual mentoring opportunities. "I have had a very rich experience volunteering for the mentor program at our local high school," recounts Mr. Pyle.  Juniors at the high school sign up for the program, where they select a mentor from a range of volunteers based on their interests. The program includes two half-days where students shadow their mentors, as well as regular one-on-one meetings. "I share with the student about what is happening in my business, and they share about what's going on at school – their hopes for the future, their questions, their struggles, and their accomplishments," says Pyle. "I encourage each one to find what they want to do, and then give it everything they've got, every single day."
"Find out what you love to do, and then give it your absolute best, every single day."