Giving and Community Service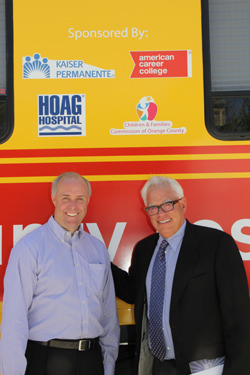 Directing the philanthropic contributions of West Coast University and American Career College, Mr. Pyle has a long history of supporting numerous charitable and community organizations. His passions include increasing access to quality health care and creating educational opportunities, particularly for the underserved and at-risk children and families.
West Coast University Giving
West Coast University Giving
National Health Foundation and Hospital Association of Southern California (HASC)
are dedicated to improving and enhancing the health care of the underserved by developing and supporting innovative programs that can become independently viable, provide systemic solutions to gaps in health care access and delivery, and have the potential to be replicated nationally. HASC represents hospitals across six counties including Los Angeles, Orange, and San Bernardino to improve the quality and accessibility of health services. West Coast University's contribution specifically supports recuperative care for homeless patients.
California Institute for Nursing and Health Care (CINHC)
develops solutions to the nurse shortage by partnering with nurse leaders, educators, providers, payers, policy leaders, and consumers. CINHC funding is entirely through contributions and grants, and works collaboratively with organizations and individuals concerned about ensuring an adequate supply of nurses and developing leaders in the field for the future.
West Coast University supports the Ronald McDonald House
program which provides a "home-away-from-home" for families with children who are hospitalized. The program allows parents to be close by when their child is undergoing treatment for serious illness.
Providence Holy Cross Medical Center
provides high quality specialty services to the San Fernando Valley. Providence Holy Cross is a leader in cardiac surgery and recently celebrated 25-years of providing the community with trauma care. Their facilities also include Cancer and Imaging Centers. West Coast University supports the Providence Holy Cross Foundation which allows the Medical Center to keep pace with life-saving technological advances.
West Coast University contributes financially to Shriners Hospital for Children – Los Angeles,
helping them to provide the most advanced medical care for thousands of kids with orthopedic conditions, burns, spinal cord injuries and cleft lip and palate in a family-centered environment, regardless of the patient's ability to pay.
On a daily basis, CHOC Children's  (Children's Hospital of Orange County)
performs life-saving procedures, caring for the children of Orange County with the greatest health care needs. CHOC offers many primary and specialty care clinics, a pediatric residency program, and four centers of excellence – The CHOC Children's Heart, Cancer, Neuroscience, and Orthopedic Institutes.
THINK (Teaching, Helping, Inspiring & Nurturing Kids) Together
is one of the nation's leading nonprofit providers of extended learning time programs (after-school, small group tutoring, summer learning, and early literacy. Working with parents, teachers, school administrators and volunteers, THINK Together serves at-risk and low-income students across California to help students and local schools close the academic achievement gap.
Through support of the Hoag Hospital Foundation,
West Coast University supports multiple branches of Hoag Memorial Hospital, from the Neuroscience Institute, to the Intensive Care Unit, Critical Care Unit, Cardiology, and Gastroenterology. Our giving supports innovative program development and clinical research to improve health care in the community.
New Vista School
is a grade 6-12+ progressive educational center in Laguna Hills, California, that provides a safe, structured educational environment serving the needs of students with Asperger Syndrome, high-functioning Autism, and language learning disabilities who may benefit from social and transitional skills development. West Coast University has sponsored their "Swing for Autism" fund raiser.
Widely recognized as a leader in cardiac care, St. Bernardine Medical Center
is not-for-profit health care facility in San Bernardino. The foundation for the Medical Center funds a variety of programs and services to help the medical center provide compassionate, high-quality and affordable health care.
Steven's Hope for Children, Inc.
is a non-profit children's charity in Upland, California created to enhance the lives of families of seriously ill or injured children by providing housing and other essential needs during the child's extended treatment and care. Through its three programs, "Housing for Hope", "Fill A Need" and "We Care", Steven's Hope has been lessening the burdens of families from California, and across the United States and the world.